VASCO Shipping Services
Exclusive representation
of the Chinese
shipping company COSCO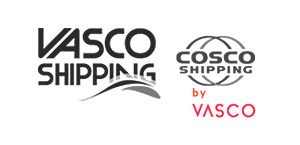 VASCO Shipping Services was set up in 2000 within VASCO to carry out exclusive representation of the Chinese shipping company COSCO, with which it has collaborated since 1991. With its own offices in Bilbao (headquarters) and Vigo, it represents the shipowner throughout the North of Spain and, through its subsidiary Cosvas Atlantic, in the Canary Islands and Mauritania from its offices in Las Palmas de Gran Canaria. Cosco Shipping Lines is the world's third largest shipping operator in terms of freight container capacity, with 3.06 million TEU. It has 1,318 ships and is highly specialised in refrigerated cargo, oversized goods, and the automotive sector.
VASCO Shipping Services
Maritime transport container.
Special equipment.
Asia, Indian subcontinent, South America, Oceania, United States, Eastern Mediterranean, North and West Africa, Middle East, Europe.