One mission,
so many paths
VASCO is a family-run group founded in 1970 in Bilbao, dedicated to transport, logistics, consulting, and innovation, with an international vision. The always sustainable growth of the VASCO brand, through its companies, is the result of 50 years of hard work, vision, and the dedication of a multidisciplinary team. The talent of our team and our openness to new horizons have enabled VASCO to move with the times, as a global family firm dedicated to international transport, logistics, consulting, and innovation.
Mission and vision,
our history
International
family-run group
The Group's strategic development is aligned with social responsibility, it is our way of looking at the world from a corporate perspective.
Today, the transport and logistics sector is facing important challenges that undoubtedly have an impact on the contexts where we operate: automation, new technologies such as Artificial Intelligence, digitalisation and data security, the health and safety of people and freight, and environmental impact, among many other commitments.
The companies that make up VASCO have developed management policies, mechanisms, and measures, within the framework of our own Code of Ethics, which ensure responsible management of our activity, some of which are certified and audited.
Kepa Azarloza: an innovative and supportive vocation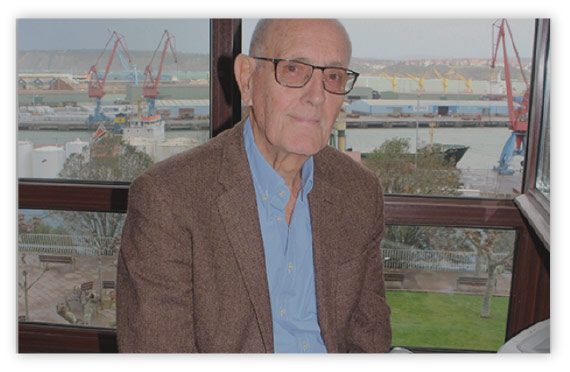 Founder and President of VASCO
Founder and President of VASCO
Born in 1939 in the French-Basque town of Bidart, Kepa Azarloza Goiría is the son of Basque refugees who returned to his mother's village of Derandein, located in Amorebieta (Bizkaia), after the end of the Civil War.
The son of a sailor, Kepa Azarloza decided to follow in his father's footsteps and joined in the merchant navy. After 28 years, he returned to dry land and joined the Bilbao branch of the shipping company Euromar. But he didn't feel at home there, and in April 1970 he arrived at Vasco Catalana de Consignaciones, founded only six months earlier by Ernesto Romeu Sanromá and the Bergaretxe brothers.
In Vasco Catalana de Consignaciones, he first held the position of director, then of chief executive officer, and finally, he became owner. Throughout his career, he has been committed to continuous professional development. He received a master's degree in Economics from the University of Deusto and also studied Leisure and Culture at the University of Deusto, graduating in both disciplines. Because, to move the world, you also have to discover cultures.
15 years ago, it was time to retire, and he handed the baton over to three of his four children. However, it was not until 2019 (at the age of 80) that stood down as Chairman of the Board. Currently, he attends General Meetings, but not Board Meetings, and continues to devote part of his time to the Derandein Fundazioa foundation (created in 2007), where he oversees, with enthusiasm and dedication, projects in education, water, food and health in sub-Saharan African countries with the aim of improving the living conditions of the most disadvantaged groups.